Covid-19
Global Adhesive Dressings Market Size, Share
The pandemic continues to cause unprecedented disruption across industries worldwide.Get detailed insights regarding the impact of COVID-19 on the market. Request Sample
Industry Insights
[209+ Pages Report] According to Facts & Factors Research, the global adhesive dressings market was assessed at about USD 2,200 Million in 2020 and is projected to produce revenue worth USD 3,300 Million by the end of 2026, expanding at a CAGR of roughly 6% between 2021 and 2026.
Market Overview
A dressing is a sterile patch or cover that is added to a wound to aid healing and protect it from further damage. A wrapping is meant to come into direct contact with the wound, as opposed to a bandage, which is usually used to hold a dressing in place. Nowadays, self-adhesive dressings are very common. Since there are often scratches and cuts from falling on the road or pavement, which causes the wound to become infected with bacteria, medicated adhesive dressings are becoming more common among consumers. After washing the wound, medicated bandages are added to shield it from further contamination.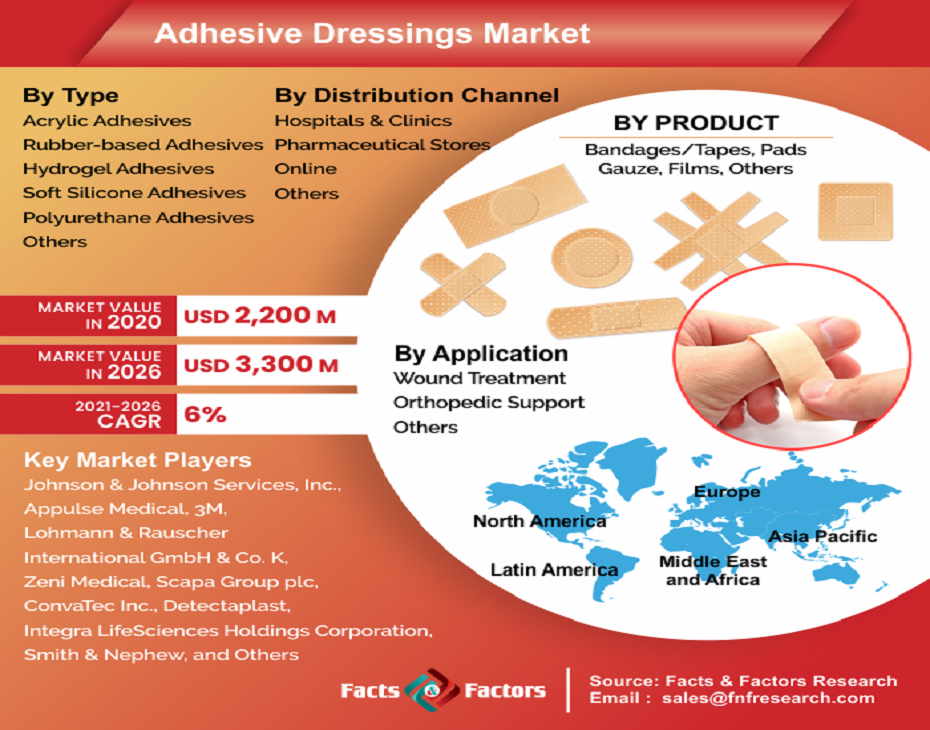 Industry Growth Factors
The rising incidence of acute wounds such as cuts and burns is one of the key factors driving the growth of the adhesive dressings industry. Aside from that, the availability of a broader product line for dressings and rising customer acceptance of wound care products would drive the standard non-adherent dressings market forward. The demand for adhesive dressings will rise in the near future as healthcare facilities concentrate on the introduction of many educational programs to increase awareness among healthcare professionals about wound management. The slow development of this demand would be due to a lack of qualified clinicians in developing countries who can handle chronic wounds. Low understanding of wound care solutions and possible treatment modalities on the market is likely to limit demand for these drugs.
Segmentation Analysis
The adhesive dressings market is bifurcated on the basis of type, product type, application, and distribution channel. Based on type segmentation, the market is split acrylic adhesives, rubber-based adhesives, hydrogel adhesives, soft silicone adhesives, polyurethane adhesives, and others. Soft silicone adhesives are expected to have the highest market share because they have a thin silicone adhesive coating that wicks fluid vertically and serves as an absorbent dressing, further minimizing exudate contact with the peri-wound skin. By the application type, because of the increase in wounds caused by major and minor injuries in recent years, wound care is expected to develop, necessitating the use of adequate medication and medications for rapid healing. A host of chronic diseases are now adding to the world's growing concern over wounds. The body's own healing processes are harmed by high blood pressure and diabetes. As a result, diabetic patients' wounds and injuries need extra care and treatment. It's worth noting that diabetic ulcers infected more than 54% of diabetic ulcers in 2019, with about 23% needing amputation. This represents the cost of wound care treatment for the affected patients. Aside from car collisions, each year adds to the worldwide total of injured and sick patients. This means that wound care supplies and devices can be used more often to treat accident patients around the world. In addition, about 20-30 million people are injured or disabled each year, and road traffic deaths will be the fifth leading cause of death by 2030. This graph in particular shows that the global adhesive dressings industry has a wide profit margin window. In terms of distribution channels, the market is bifurcated into hospitals & clinics, pharmaceutical stores, online, and others. Hospitals and clinics are projected to have a large share of the adhesive dressing market because they are well-equipped with first-aid supplies. Across the country, a growing number of multispecialty hospitals are springing up, with more facilities to accommodate emergency patient admissions. As a result, a significant amount of road accidents and emergency situations necessitate hospitalization and life-saving procedures, necessitating the use of permanent bandages as soon as possible.
Regional Analysis
North America has been described as the largest adhesive bandages market in the world, owing to significant driving factors such as rising diabetes prevalence, which poses a high risk of sepsis, and rising health awareness. More than 100 million people in the United States have diabetes or prediabetes, which can lead to type 2 diabetes if not treated within five years, according to a recent report conducted by the Centers for Disease Control and Prevention in 2017. The adhesive dressings market in the Asia Pacific is expected to grow rapidly during the forecast period, owing to an increase in patient population, increased government interventions in the health care sector, an increase in the number of accidents, and a rise in key players' interest in expanding market presence in the area.
Competitive Players
Some of the key players in the adhesive dressings market are Johnson & Johnson Services, Inc., Appulse Medical, 3M, Lohmann & Rauscher International GmbH & Co. K, Zeni Medical, Scapa Group plc, ConvaTec Inc., Detectaplast, Integra LifeSciences Holdings Corporation, Smith & Nephew, North Coast Medical, Cardinal Health, Dynarex Corporation, Medline Industries, Inc., and B. Braun Melsungen AG among others. These international companies have used a variety of tactics to achieve a credible presence in the global market, including buying partnerships, stakes, arrangements, collaborations, joint ventures, new product sales, deals, and mergers and acquisitions. 3M (US) is the market leader in the worldwide wound dressings industry. The company focuses on new product releases and acquisitions to increase its market share in wound dressings. In November 2018, Mölnlycke introduced the Mepilex Border Flex dressing, which is intended to reduce dressing adjustments, expenses, and waste while facilitating optimum healing.
By Type Segmentation Analysis:
Acrylic Adhesives
Rubber-based Adhesives
Hydrogel Adhesives
Soft Silicone Adhesives
Polyurethane Adhesives
Others
By Product Type Segmentation Analysis
Bandages/Tapes
Pads
Gauze
Films
Others
By Application Segmentation Analysis
Wound Treatment
Orthopedic Support
Others
By Distribution Channel Segmentation Analysis
Hospitals & Clinics
Pharmaceutical Stores
Online
Others
Regional Segmentation Analysis
North America
Europe

Germany
The UK
France
Spain
Italy
Rest of Europe

Asia Pacific

China
Japan
India
South Korea
Southeast Asia
Rest of Asia Pacific

Latin America

Brazil
Mexico
Rest of Latin America

Middle East & Africa

GCC Countries
South Africa
Rest of Middle East & Africa