Covid-19
Global Smart Kitchen Appliances Market Size, Share
The pandemic continues to cause unprecedented disruption across industries worldwide.Get detailed insights regarding the impact of COVID-19 on the market. Request Sample
Industry Insights
[228+ Pages Report] According to Facts and Factors, the global Smart Kitchen Appliances Market was worth USD 11.76 Billion in 2020 and is expected to reach USD 33.55 Billion by the end of 2026, with a CAGR of roughly 19.10% between 2021 and 2026.
Market Overview
The term "smart kitchen appliances" refers to appliances that are meant to save energy and time. Their main objective is to be environmentally responsible while being productive. They're constructed from a combination of cutting-edge technology, smart design, and environmentally responsible materials. Cooking is growing increasingly popular, and equipment is being utilized for a wide range of purposes. With the fast advancement of technology, the kitchen concept has experienced a substantial transition, with a heavy emphasis on increasing kitchen efficiency and reducing cleaning and cooking time.
Industry Growth Factors
Customers on the worldwide market have begun to connect technical innovation with wealth, and they are spending a disproportionate amount of money on home decoration. As a result, the market for smart kitchen equipment has grown globally. Every modern appliance, from dishwashers to freezers, incorporates smart technology to provide tailored functionality for a variety of customer demands and preferences. The development of smart kitchens is aided by the trend toward smaller single-family homes and integrated kitchen designs. The smart kitchen appliances market is predicted to rise at a high rate because of characteristics such as linked security, intelligent sensors, time savings, and convenience. A rising consumer trend toward technology-driven goods is driving the need for energy-saving and electric kitchen equipment. Because of the wider penetration of technologically advanced items, the rise of smart homes in the United States is far higher than in the rest of the globe. The capability that automatically switches off the appliances as needed while informing the owner is one of the major factors driving the smart kitchen appliances market growth. In addition, the increasing use of IoT technology adds considerably to the growth of the smart kitchen appliance market. However, a lack of knowledge of the benefits of smart kitchen equipment, as well as high maintenance costs, are two major barriers to the industry's expansion.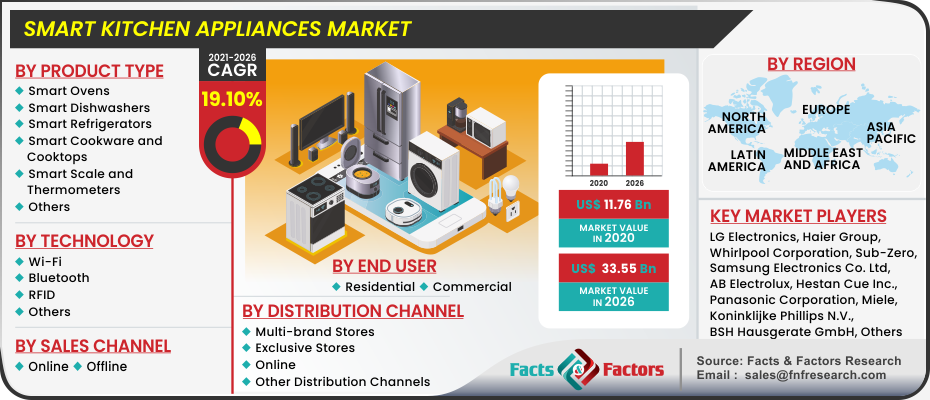 Segmentation Analysis
The global smart kitchen appliances market can be segregated based on product type, technology, end-use industry, and region. Based on product type, the global smart kitchen appliances industry is categorized into smart cookware and cooktops, smart dishwashers, smart refrigerators, smart ovens, smart scale and thermometers, and others. Based on technology, the global smart kitchen appliances industry is categorized into Bluetooth, wi-fi, RFID, and others. Based on sales channels, the global smart kitchen appliances industry is categorized into offline, and online. Based on distribution channels, the global smart kitchen appliances industry is categorized into exclusive stores, multi-brand stores, online, and other distribution channels. Based on end-user, the global smart kitchen appliances industry is categorized into commercial, and residential.
Regional Analysis
In 2020, North America is likely to be the leading regional smart kitchen appliances market. The United States was the largest market for smart kitchen appliances in North America, accounting for more than half of the market. The main drivers of regional market growth are rising disposable income, changing lifestyles, and expenditures in renovations and contemporary designs. During the projection period, Asia Pacific is predicted to be the fastest expanding market, with a substantial growth rate. The increasing usage of smart refrigerators and smart ovens in the area, notably in China, is a significant driver of market expansion. During the projection period, the region will provide market vendors with many prospects for growth. Smart kitchen appliance market expansion in this region will be fueled by advantageous infrastructure, acceptance of smart home technologies, technical developments, and expanded product offerings throughout the projected period.
Competitive Players
Some main participants of the global smart kitchen appliances market are LG Electronics, Whirlpool Corporation, Samsung Electronics Co. Ltd, AB Electrolux, Panasonic Corporation, Haier Group, Koninklijke Phillips N.V., BSH Hausgerate GmbH, Sub-Zero, Miele, Hestan Cue Inc., Breville Group Limited, De'Longhi Appliances S.r.L., Cie KG, Groupe SEB, amongst others.
Smart Kitchen Appliances Market: By Product Type
Smart Ovens
Smart Dishwashers
Smart Refrigerators
Smart Cookware and Cooktops
Smart Scale and Thermometers
Others
Smart Kitchen Appliances Market: By Technology
Wi-Fi
Bluetooth
RFID
Others
Smart Kitchen Appliances Market: By Sales Channel
Smart Kitchen Appliances Market: By Distribution Channel
Multi-brand Stores
Exclusive Stores
Online
Other Distribution Channels
Smart Kitchen Appliances Market: By End User
Smart Kitchen Appliances Market: Regional Segment Analysis
North America
Europe

UK
France
Germany
Italy
Spain
Rest of Europe

Asia Pacific

China
Japan
India
South Korea
Southeast Asia
Rest of Asia Pacific

Latin America

Brazil
Mexico
Rest of Latin America

Middle East and Africa

GCC Countries
South Africa
Rest of MEA