Industry Insights
[179+ Pages Report] As per the Facts and Factors research report, the global two-wheeler hub motor market was estimated to have generated sales revenue of USD 8.9 Billion in 2020. By 2026, the two-wheeler hub motor market is anticipated to generate revenue of USD 15.67 Billion, increasing at a CAGR of around 9.7% from 2021 to 2026.
Global Two-wheeler Hub Motor Market: Overview
Electric car usage is increasing as people become more aware of global warming and the depletion of fossil fuels. This is one of the primary drivers driving market expansion. Furthermore, manufacturers' increasing attempts to decrease their carbon footprints are expected to boost the market growth. Furthermore, several governments around the world are implementing a variety of measures to encourage people to choose zero-emission vehicles, which are expected to increase demand for electric vehicles, which in turn will drive demand for two-wheeler hum motors.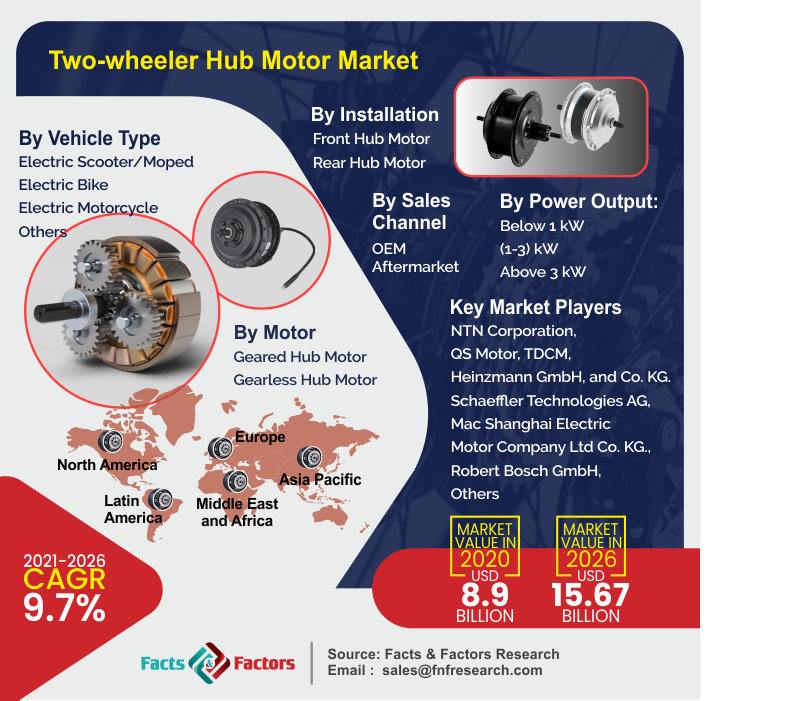 To know more about this report | Request Free Sample Copy
The Covid-19 pandemic has halted the normal execution of the two-wheeler motor business. Worldwide organization's technique to stop the movement towards new innovation and speculation intend to protect the expense will additionally hamper the portability arrangement say self-sufficient vehicles and financial log jam across the globe would consistently affect the development of this market. On the other hand, the financial conditions of different enterprises in the two-wheeler motor hub sector have been severely impacted, forcing them to focus on recovering their damages and losses rather than automating and developing new products. However, increasing stress on reducing carbon footprints and keeping the emissions as low as possible post-pandemic will impact the two-wheeler motor hub business across the world.
Global Two-wheeler hub motor Market: Growth Factor
The hub motor is currently gaining popularity in electric vehicles because of its features such as lightweight, flexibility, high power efficiency, elasticity, and compact sizes, which help to reduce maintenance costs and provide a better driving experience. Furthermore, by eliminating the main engine in electric cars, two-wheeler hub motors reduce the requirement for axles, transmissions, and drivelines. As a result, it aids in the reduction of mechanical losses in all components between the wheel and the engine, resulting in a quieter operating vehicle with reduced noise generation. Owing to rising concerns about rapid environmental degradation as a result of rising carbon emissions from traditional fuel-based vehicles, sales of electric two-wheelers have exploded in recent years. Furthermore, many governments are progressively preferring electric two-wheelers to conventional light motor vehicles (LMVs), supporting the two-wheeler hub motor industry's revenue growth. Furthermore, automakers are expected to make significant expenditures to meet the growing demand for electric two-wheelers. This, in turn, is projected to have a significant impact on the market's evolution.
Report Scope
| | |
| --- | --- |
| Report Attributes | Details |
| Market Size in 2020 | USD 8.9 Billion |
| Projected Market Size in 2026 | USD 15.67 Billion |
| Growth Rate | CAGR 9.7% |
| Base Year | 2020 |
| Forecast Years | 2021 – 2026 |
| Key Market Players | NTN Corporation, QS Motor, TDCM, Heinzmann GmbH, and Co. KG., Schaeffler Technologies AG, Mac Shanghai Electric Motor Company Ltd, and Co. KG, Robert Bosch GmbH, and Elaphe Propulsion Technologies Ltd., Evans Electric, GoGoA1, TVS Motors, Ziehl-Abegg, Protean Electric, Hyundai Mobis, Kolektor, and Printed Motor Works, among others. |
| Key Segment | By Vehicle Type, By Installation, By Motor, By Power Output, By Sales Channel, By Region |
| Major Regions Covered | North America, Europe, Asia Pacific, Latin America, and the Middle East & Africa |
| Purchase Options | Request customized purchase options to meet your research needs. Explore purchase options |
Global Two-wheeler Hub Motor Market: Segmentation
Based on Vehicle Type, the market is bifurcated into electric scooter/moped, electric bike, and electric motorcycle among others. The electric bike sector accounted for the biggest percentage of the market. These motors are commonly used in electric motorcycles because of their strong torque, fast speed and power, and long-range. Furthermore, because of their lightweight, these motors provide improved vehicle handling. Over the forecast period, these factors are expected to drive segment demand. Based on the installation, the market is segregated into a front hub motor and rear hub motor. The rear hub motor sector accounted for the majority of the market. Manufacturers choose to mount two-wheeler hub motors to the back wheel because they provide superior traction, stability, and vehicle performance. As a result, the market is expected to expand over the forecast period. Because the majority of the vehicle's weight is concentrated in the back, a rear two-wheeler hub motor provides significantly more traction than a front two-wheeler hub motor. Furthermore, the front two-wheeler hub motor arrangement is less expensive to maintain and service. In terms of motor, the market is divided into geared hub motor and gearless hub motor. In 2020, the geared hub motor category dominated the market, and this is expected to continue in the future. For better longevity and speed control, two-wheeler hub motors are frequently geared. Furthermore, as geared motors are smaller and lighter, they are favored by the majority of electric 2-wheeler producers. Two-wheeler hub motors with no gears are capable of producing a lot of power and torque. As a result, they're particularly well-suited to high-performance electric vehicles. OEMs choose between geared and gearless motors based on the vehicle's weight and power requirements. Since consumers prefer automobiles equipped with motors built by original equipment manufacturers, the OEM segment held the largest market share. Furthermore, increased consumer desire for mopeds and electric scooters as alternatives to traditional motorcycles is expected to propel the segment's growth. Furthermore, increased exports and demand for electric vehicles and two-wheelers around the world are expected to fuel the segment's expansion in the future years.
Global Two-wheeler Hub Motor Market: Regional Analysis
Based on regions, the global two-wheeler hub motor market can be divided into five main regions namely, North America, Europe, Latin America, Asia Pacific, and The Middle East, and Africa. North America dominates the market. This is due to manufacturers' increasing emphasis on building high-performance, greener, and faster electric vehicles. The launch of electric two-wheelers in the United States by key OEMs such as LUNA CYCLE, Zero Motorcycles, Victory Motorcycles, and Harley-Davidson resulted in huge demand for two-wheeler hub motors. Furthermore, advantages such as greater torque control, rapid acceleration, and improved stability are expected to drive demand for two-wheeler hub motors even higher. Asia Pacific is expected to grow at the fastest rate during the forecast period as China is the largest market two-wheeler hub motor in the Asia Pacific due to the presence of major two-wheeler hub motor manufacturers namely QS Motor, NTN Corporation, , and TDCM.
Global Two-wheeler Hub Motor Market: Competitive Players
Some of the key players in the two-wheeler hub motor market are
NTN Corporation
QS Motor
TDCM
Heinzmann GmbH and Co. KG.
Schaeffler Technologies AG
Mac Shanghai Electric Motor Company Ltd and Co. KG
Robert Bosch GmbH
Elaphe Propulsion Technologies Ltd.
Evans Electric
GoGoA1
TVS Motors
Ziehl-Abegg
Protean Electric
Hyundai Mobis
Kolektor and Printed Motor Works
Global Two-wheeler Hub Motor Market – By Vehicle Type:
Electric Scooter/Moped
Electric Bike
Electric Motorcycle
Others
Global Two-wheeler Hub Motor Market – By Installation:
Front Hub Motor
Rear Hub Motor
Global Two-wheeler Hub Motor Market – By Motor:
Geared Hub Motor
Gearless Hub Motor
Global Two-wheeler Hub Motor Market – By Power Output:
Below 1 kW
(1-3) kW
Above 3 kW
Global Two-wheeler Hub Motor Market – By Sales Channel:
Global Two-wheeler Hub Motor Market – By Region:
North America
Europe

The UK
France
Germany
Italy
Spain
Rest of Europe

Asia Pacific

China
Japan
India
South Korea
Southeast Asia
Rest of Asia Pacific

Latin America

Brazil
Mexico
Rest of Latin America

Middle East & Africa

GCC Countries
South Africa
Rest of Middle East & Africa