Industry Insights
[205+ Pages Report] According to Facts and Factors, the global diatomite market was valued at USD 1,125 million in 2021 and is predicted to increase at a CAGR of 4.70% to USD 8,695 million by 2028. The study examines the market in terms of revenue in each of the major regions, which are classified into countries.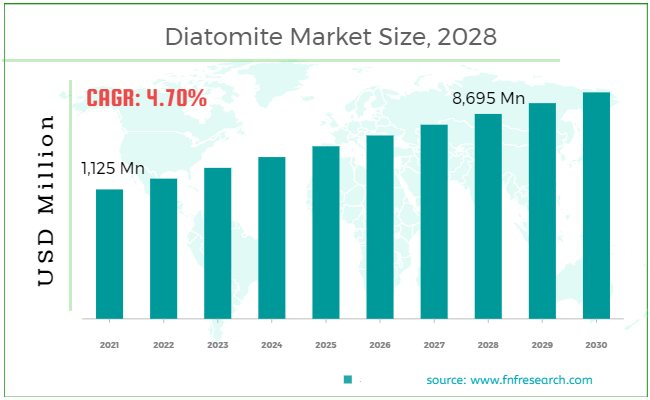 To know more about this report | Request Free Sample Copy
Market Overview
Diatomite, commonly known as diatomaceous earth, is a naturally occurring fossilized diatom remnant. An extremely porous rock with tiny particle size and low specific gravity. It can be used as filter media, absorbent, and lightweight filler in rubber, paint, and plastics because of these key qualities. Due to the increasing potential in the construction sector, the industry is predicted to grow rapidly, and manufacturers are introducing strategic innovations to support this. Due to rapid technical and economic progress, as well as population growth, there has been a considerable demand for natural resource consumption in most locations throughout the world in recent years.
With its increasing use in industrial applications such as filter aid and filler material, the worldwide diatomite market is predicted to rise significantly. Natural filtering properties due to its distinctive honeycomb structure, as well as its rising use in filtration applications and the food and beverage industry, are important market growth drivers. Due to its distinctive physical structure, diatomite has superior filtering properties, and its rising use in filtration applications is likely to be a key market driver over the forecast period. The large surface area, abrasiveness, and high silica content of diatomite encourage its use in a variety of applications such as filtration, functional additives, absorbents, and medicines, which is likely to drive market expansion throughout the forecast period. By its strong purifying properties, the filtration market is the main consumer of diatomite. In addition, diatomite's increasing application in industries such as paints, plastics, pesticides, pharmaceuticals, chemicals, adhesives, sealants, and paper is likely to drive market expansion throughout the projection period.
Impact of COVID – 19
The novel coronavirus epidemic has wreaked havoc on the global agricultural sector, particularly in underdeveloped countries. Due to logistical and manpower difficulties, the outbreak has hampered the sector's marketing and production, while rising food prices have influenced consumption patterns and economic challenges have limited access to markets. Due to its dehydration qualities, diatomite is increasingly used in agricultural pesticides, fungicides, and rodenticides, which may have influenced the diatomite industry. However, due to the increased use of safe painting solutions and their pent-up demand, the market may regain speed in the future years.
The complete research study looks at both the qualitative and quantitative aspects of the diatomite market. Both the demand and supply sides of the market have been investigated. The demand side study examines market income in various regions before comparing it to all of the major countries. The supply-side research examines the industry's top rivals, as well as their regional and global presence and strategies. Each major country in North America, Europe, Asia Pacific, the Middle East and Africa, and Latin America is thoroughly investigated.
Segmentation Analysis
The global Diatomite market is segregated based on source, process and application.
Natural grades will continue to dominate the market over the forecast period, regardless of application. Diatomites are created from the fossilized remains of diatoms, which are small aquatic creatures. Their skeletons are formed of silica, a natural material. The growing use of diatomite in sectors such as paints, plastics, pesticides, medicines, chemicals, adhesives, sealants, and paper is expected to fuel market growth over the forecast period.
The diatomite market will see absorbents become a popular application segment. Due to its high surface area and porosity, this product is increasingly being used to clean up spills in the waste remediation, janitorial, industrial, and automotive industries. Furthermore, given the product's use as an absorbent in personal care products, the strong focus on hygiene and the resulting increase in demand for hygiene-based beauty items would drive segmental growth.
Report Scope
| | |
| --- | --- |
| Report Attribute | Details |
| Market Size in 2021 | USD 1,125 Million |
| Projected Market Size in 2028 | USD 8,695 Million |
| CAGR Growth Rate | 4.70% CAGR |
| Base Year | 2021 |
| Forecast Years | 2022-2028 |
| Key Market Players | Imerys S.A., EP Minerals, Calgon Carbon Corporation, Showa Chemical Industry Co., Ltd, Diatomit CJSC, Dicalite Management Group, Inc., Jilin Yuan Tong Mineral Co., Ltd., Diatomite Direct, Qingdao Best diatomite co.ltd., CECA, Shenzhou Xinglong Products of Diatomite Co,Ltd, Chuanshan International, U.S. SILICA, and Others. |
| Key Segment | By Source, Process, Application, and Region |
| Major Regions Covered | North America, Europe, Asia Pacific, Latin America, and the Middle East & Africa |
| Purchase Options | Request customized purchase options to meet your research needs. Explore purchase options |
Regional Landscape
The diatomite market in North America was the most competitive. The market for diatomite in this region has been driven in recent years by increased demand from end-users such as water treatment, industrial applications, abrasive, medical & healthcare, absorbents, and crop protection chemicals. Due to significant demand from the crop protection chemicals, water treatment, and abrasive industries, the United States had the largest diatomite demand in this region. In the next years, other countries, such as Canada and Mexico, are projected to see a rise in diatomite demand.
List of Key Players in the Global Diatomite Market:
Imerys S.A.
EP Minerals
Calgon Carbon Corporation
Showa Chemical Industry Co., Ltd
Diatomit CJSC
Dicalite Management Group, Inc.
Jilin Yuan Tong Mineral Co., Ltd.
Diatomite Direct
Qingdao Best diatomite co.ltd.,
CECA
Shenzhou Xinglong Products of Diatomite Co, Ltd
Chuanshan International
U.S. SILICA
The Global Diatomite Market is segmented as follows:
By Source Segment Analysis
Fresh Water Diatomite
Salt Water Diatomite
By Process Segment Analysis
Natural Grades
Calcined Grades
Flux-Calcined Grades
By Application Segment Analysis
Filter Media
Cement Additive
Filler
Absorbent
Insecticides
Others
By Regional Segment Analysis
North America
Europe

France
The UK
Spain
Germany
Italy
Nordic Countries
Benelux Union

Belgium
The Netherlands
Luxembourg

Rest of Europe

Asia Pacific

China
Japan
India
Australia
South Korea
Southeast Asia

Indonesia
Thailand
Malaysia
Singapore
Rest of Southeast Asia

Rest of Asia Pacific

The Middle East & Africa

Saudi Arabia
UAE
Egypt
South Africa
Rest of the Middle East & Africa

Latin America

Brazil
Argentina
Rest of Latin America