The growth of the intelligent toilet seat cover market over the ensuing years can be credited to its ability to reduce odor and ability to minimize contact with microbes. Apart from this, the surge in awareness about health & hygiene among the population of emerging economies will scape up the expansion of intelligent toilet seat cover industry in ensuing years. Massive demand for smart hygiene products will steer market trends.
Huge demand for products in commercial spaces and residences will prop up the size of the intelligent toilet seat cover industry. The necessity of maintaining employee hygiene and the need for an odorless environment will generate new growth avenues for the intelligent toilet seat cover market.
As per recent studies published by FNF Research, Intelligent Toilet Seat Cover Market, which accrued revenue worth USD 400 Mn in 2021, is predicted to register the highest gains of about 12% over the next six years and earn nearly 825 Mn by 2028.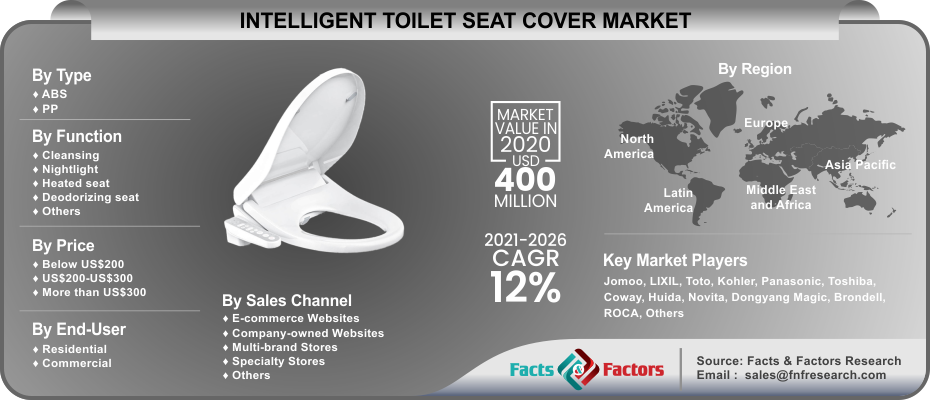 Now, let us display the key features demonstrated by industry participants in lucratively influencing intelligent toilet seat cover market growth.
Toshiba Corporation (Japan): It is founded in July 1875 in Tokyo, Japan. The firm offers products & services such as hard disk drives, semiconductors, home appliances, personal computers, medical devices, and printers.
Novita Oy (Finland): The firm was founded in 1928 and is headquartered in Helsinki, Finland. It manufactures handicraft yarn from wool and in 2014 it was the highest yarn manufacturer in the Nordic region as well as one of the biggest yarn producers in the European Continent.
Jomoo Group: The firm is a collection of research & development, sales, and production enterprise. It is also one of the bigger bathroom leading firms and was founded in 1990.
Brondell Inc.: The Company was founded in 2003 and manufactures new, healthy, and eco-friendly items such as bided toilet seats, water filters, attachments, and sprayers.
Tongyang Magic Inc. (South Korea): It is based in Seoul, South Korea and found on 3rd May 2013. It operates an in-household manufacturing business.
Duravit AG (Germany): It was founded in 1817 in Hornberg in Germany. Moreover, it manufactures porcelain bathroom fittings and bathroom furniture as well as other bathroom accessories including toilet seat covers, sinks, and sanitary ceramics.
Lotus Hygiene Systems: It is one of the leading manufacturers of electronic bidets & automated toilet seats. The firm also produces heated & soft-closing seats, pure streams, and dryers.
Coway (South Korea): The firm was founded in South Korea in 1989 and manufactures household vacuum cleaners and air purifiers.
ROCA (Spain): The organization is headquartered in Barcelona in Spain and founded in 1917 at the Municipality of Spain. It is a publicly listed firm and manufactures sanitary ware items.
Hindware Homes (India): The firm is located in India and is a major sanitary ware producer in the country. It also produces and supplies sanitary ware items and bathroom fittings.