Expansion of crypto asset management industry over forecast timespan is subject to prominent increase in the use of blockchain technology, need for safeguarding cryptocurrency requirements, and rise in capital funding of various projects related to bitcoins. Apart from this, the rise in funding of crypto asset management technology will proliferate the size of the crypto asset management market in ensuing years. Additionally, high remittance witnessed in emerging economies will define the growth of the crypto asset management market.
Acceptance of cryptocurrency across myriad business verticals will spur the business landscape. Thriving retail and e-commerce sectors will contribute substantially towards market size. Nonetheless, low awareness & less technical know-how about cryptocurrency can impede the progression of the crypto asset management industry.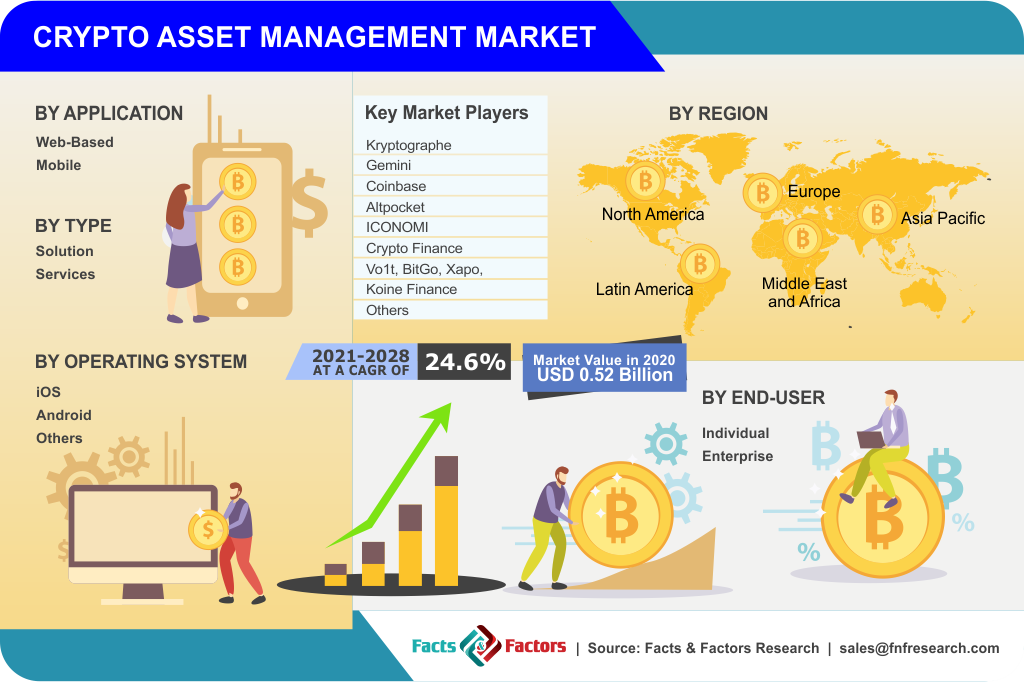 As per recent studies published by FNF Research, Crypto AssetManagement Market, which accrued revenue worth USD 0.75 Bn in 2021, is predicted to register the highest gains of about 24.6% over the next six years and earn nearly 2.4 Bn by 2028.
Now, let us display the features & role played by industry participants in bringing drastic transformation in the crypto asset management market along with influencing its growth.
➢ Altpocket: It is founded in May 2017 by Jonathan Svensson and Edwin Flatulent. Reportedly, the platform has hit a record of one lac end-users through tracking of all cryptocurrency funding in one particular location. Precisely, it gamifies cryptocurrency funding and monitoring.
➢ Coinbase Global, Inc. (U.S.): The firm was founded on 20th June 2012 and is an American firm operating a cryptocurrency exchange tool. The product that it provides includes bitcoin, Litecoin, BitcoinCash, and Ethereum.
➢ ICONOMI Limited (UK): It is the largest copy crypto trading provider across the globe and invests in many cryptocurrencies. Moreover, users of ICONOMI can purchase cryptocurrencies such as bitcoin, ripple, and either directly through Euro currency.
➢ CoinTracker Tradeium: The tool assists users in effectively monitoring the performance of cryptocurrency portfolios & online tax investments, thereby helping users in saving money.
➢ Metaco SA (Switzerland): It harmonizes online asset functions and facilitates various kinds of businesses in securely trading, issuing, and handling online assets.
➢ WazirX (India): It is a cryptocurrency exchange found in Mumbai, India in 2017-2018. It operates in the business of buying & selling bitcoins, ripples, lite coins, Ethereum, and many other cryptocurrencies in India.
➢ Opus Labs NV (Belgium): The tool was founded in 2017 in, Belgium and it develops new online products. Reportedly, Delta, the first product of Opus Labs, is a cryptocurrency platform that can also be downloaded from the opus labs website referred to as https://opuslabs.xyz
➢ itBit: It is a digital asset exchange tool facilitating secured and fair trading activities from the New York Department of Financial Services.
➢ Xapo, Inc. (Switzerland): It is based in Zurich, Switzerland and was founded in 2013. Moreover, it offers solutions such as a bitcoin wallet in integration with cold storage wallet and bitcoin-based debit card.
➢ Amberdata, Inc. (U.S.): The headquarters of the firm are based in Palo Alto, U.S. and it was founded in 2017. The firm is also a leading data infrastructure for online assets and blockchain activities. It offers a SaaS tool for smart contracts monitoring & analytics operations.
The firm falls under the crypto economics data provider category and also provides data on the cryptocurrency market & trading activitie for financial institutes. The tool facilitates end-users in building data-centric apps.