The Marine Insurance market is anticipated to earn ROI worth USD 28 billion in 2021 and will accumulate profits worth USD 41 billion by 2028. Apparently, the industry is anticipated to register a CAGR of nearly 4.1% in the next six years. In addition to this, the growth of the marine insurance market over the assessment period can be credited to a rise in transportation activities and terminal damages.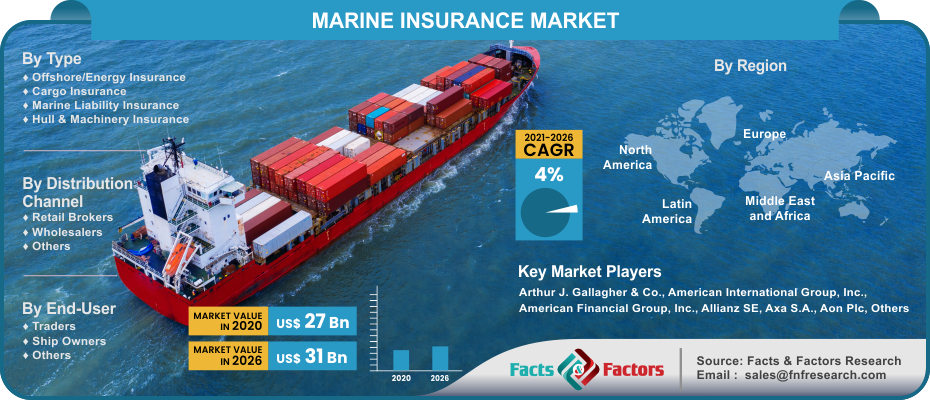 Apart from this, an increase in pirate attacks, terror attacks, and damages caused to ships as a result of natural calamities such as cyclones will spur expansion of marine insurance market size. Additionally, financial losses resulting from accidents, damage to property, loss of life of crew members & sailors as well as travelers, and damage to goods on travel are covered under marine insurance.
Let us discuss how a few mammoth industry players and their effective business plans have strategically influenced the growth of the marine travel insurance market.
Anderson Insurance Agency (U.S.): It is a Michigan-based firm and was founded in 1980. The firm offers customized insurance products & services to the communities of Michigan & Jackson.
Aries Marine Insurance Brokers Ltd. (Greece): It is located in Athens in Greece and was found in The firms operate in insurance broking business and risk consulting activities.
Ascot Insurance Group (Australia): The firm is based in Australia and specializes in various insurance businesses.
Berkshire Hathaway Specialty Insurance (U.S.): The company is based in Nebraska, U.S. and was founded in 1839 in Rhode Island in the United States of America. The firm provides healthcare professional liability, transactional liability, medical stop-loss, multinational insurance, marine insurance, travel insurance, commercial property insurance, and casualty insurance.
Arthur J. Gallagher & Co. (U.S.): The firm is based in Illinois, U.S. and was founded in 1927. This American firm operates in the insurance brokerage & risk management business. It is one of the largest insurance broking firms across the globe.
Jardine Lloyd Thompson Group (UK): The Company is based in London, UK and was founded in February 1997. Moreover, the firm offers brokerage solutions, insurance & reinsurance services, and employment benefit guidance to other firms.
Aon Plc (UK): It is a multinational British-American professional services firm founded in 1982 in Chicago, U.S. The company is headquartered in London in the UK. Furthermore, the company sells an assortment of financial risk mitigating products such as healthcare insurance plans, insurance solutions, and pension administration services.
Mitsui Sumitomo Insurance Group Holdings, Incorporation (Japan): It is a Japan-based insurance holding firm headquartered in Tokyo. The inception of the firm was in 2001 through the merging of The Sumitomo Marine & Fire Insurance Company and Mitsui Marine & Fire Insurance Corporation. The organization was founded in 1918. It operates in non-life insurance and life insurance businesses.
Axa S.A. (France): The firm is located in Paris, France and was founded in 1816. It provides various kinds of services such as investment management solutions and other types of financial solutions.
Zurich Insurance Group Ltd (Switzerland): It is a Swiss-based insurance firm based in Zurich and is the largest insurer of the country. Apart from this, the firm provides services such as insurance and financial.